Complete health and safety solutions. All in one place - MEDIKO
MEDIKO provides a complete range of Health and Safety solutions from simple audits to undertaking all of health and safety activities in your company.
We deliver health and safety services that support organizational strategy and operations and help clients to improve health outcomes and reduce costs.
No matter what health and safety issue challenge your company whether one time only advice or a full range of services, we are ready to develop a solution, tailored to your specific requirements.
---
Health and safety
As a health and safety service provider MEDIKO ensures that your business meets legal obligations and provides a safe working environment for employees.
Main activities:
Risk assessment of work places
Development of measures to eliminate and reduce risks
Health monitoring & analyzing it in relation to work
Compliance management & auditing
Construction Safety Management / Supervision
H&S documentation review & Gap analysis
Updates regarding changes in H&S legislation and best practice
H&S training courses
---
Environment Laboratory
We provide environmental tests of physical and chemical factors as well as control electric safety of facilities. The measurements are essential part of the risk assessment of work places and all of them are performed under international accreditation, that we maintain.
Physical factors in the work environment
Microclimate
Noise
Vibrations
Artificial lightning
Electromagnetic fields
HVAC - AC & Ventilation systems
Coherent & non-coherent optical radiation
Wet-bulb globe temperature (WBGT) index
Chemical agents in the work environment
Dust - concentration of an inhalable and respirable dust fraction
Toxic substances - concentration of chemical agents in the air
Air quality - CO2 concentration
Mineral oils - concentration of mineral oils
Respirable particulates (RCS)
Electrical Safety
Loop Impedance test
Ground earth resistance test
Lightning protection test
Residual current devices test
Insulation resistance testing
Electrical Equipment Testing (EET) - PAT testing DIN VDE 0701-0702
---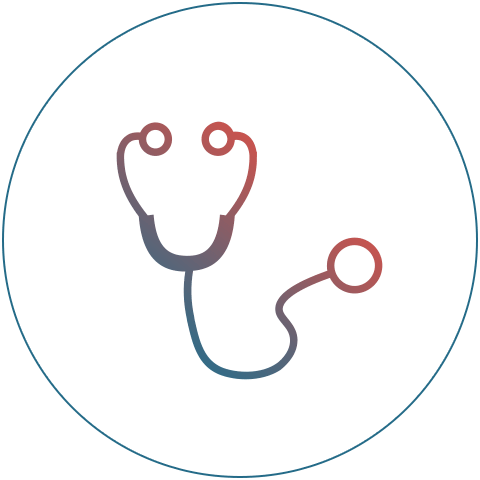 Medical examinations
We organize and carry out general medical examinations of the workers in compliance with the specific working conditions and the risk assessment.
Mediko has a team of medical specialists and a modern equipment for executing medical check-ups by physician, cardiologist, ophthalmologist, neurologist, otorhinolaryngologist. Prophylactic medical examinations are not only the physical check-ups by a doctor, but also can include screening like laboratory blood tests and other scans like echocardiogram of abdominal organs, mammary glands, thyroid gland, audiometry, that we can provide.
The medical check-ups take place on site or in our partners medical centers across the country.
Annual check-ups contribute to early detection of deviations from healthy status and timely treatment of invisible (hidden) disabilities. During preventive examinations a health record of each employee is prepared and the employer (company) receives a summarized report on the employee's health status as well as an analysis of the health status of the employees in the company.
---
Multinational Corporation Support
We are aware of the difficulties faced by international corporations which operate in Bulgaria. Mediko supports foreign companies in implementation of legal requirements and compliance with health and safety legislation.
At the same time we strive to apply already established internal rules and norms of international companies in their future branches in the South-East Europe. We are committed to support you on case studies and we can assist in implementing international standards.
---
Vocational Training Center
Mediko develops and participates in the implementation of health and safety training's for compliance with the H&S requirements for safe work.
Organizing and conducting training:
Representative on Committe/Groups on working conditions
Officials conducting health and safety instruction to employees
Workers for acquiring a qualification on electrical safety
Health and safety officials in construction.
First-aid training on staff providing medical assistance, self-help and mutual assistance to injured people
Individual training's according to client requirements
Health and safety training's depend on the specific working conditions of each company. Training's take place under lectures or via our e-learn platform.
---
H&S Manager
Depending on type and nature of the activities, company size, working conditions and risk factors, employers determine one or more officials with appropriate education and qualification to accomplish functions and tasks of a health and safety manager.
Mediko outsources specialists who have theoretical and practical qualification for the fulfillment of the responsibilities of a health and safety manager.
Main responsibilities of a health and safety manger consists in organizing and coordinating activities for health and safety working conditions, applying the legal requirements and representing company in front of Authorities like Labor Inspection.
---
Supervision of high-risk facilities
We provide technical inspection of high risk equipment such as lifting equipment & gear, elevators, gas installations & pipelines, pressure vessels, steam and water boilers, metal vessels under pressure and tanks and others.
The inspections ensures the integrity of equipment in terms of safety according to the Bulgarian legislation & International safety standards.
---
Fire Safety
MEDIKO provides fire safety services in terms of implementation of preventive and organizational measures to ensure fire safety on sites according to Bulgarian legislation.
Main fire safety activities in facilities include:
Fire hazard classification
Fire safety inspection and evaluation
Development of documents & implementation
Development of Personal Emergency Evacuation Plan (PEEP)
Trainings in fire safety
Exercising and testing of evacuation plan
Fire extinguishers delivery & maintenance
---
Project Management
The expert team of Mediko works on projects funded by the EU. With our extensive experience we support companies in obtaining funding for projects in a variety of fields: light and heavy industry, machine building, information technology, human resources, rural development.
Each project is based on an in-depth understanding of the funding requirements and the needs of the applicant.
We manage and provide consulting services for successful implementation and reporting of approved projects.
What can we do for your company:
free consultation on the terms of a specific Grant Procedure, including providing a summary of the Guidelines for applicants
free evaluation of the potential candidate for the grant and the project idea for compliance with the terms of a specific procedure
project development according to the needs of the applicant and the requirements of the relevant procedure
support on project implementation and reporting - depending on the specific needs and requirements of the client
We are currently working mainly on the Human Resources Development Operational Program 2014-2020
---
Energy Efficiency - Building certification
Mediko Ltd. evaluates and certifies buildings with the normative requirements for energy efficiency and implementation of energy saving measures for improving the energy characteristics of the buildings
---
Distribution of personal protective equipment and work wear
The company relies primarily on the individual approach to each client. We can advice on choosing right personal protective equipment and working clothes. We import and sell personal protective equipment as well as participate in public tenders for delivery of all kinds of PPEs.